Contact Handcraft Furnishings
Handcraft Furnishings would be delighted to hear from you, should you require a quotation or advice in relation to your kitchen or furniture requirements.
The showroom is open daily, by appointment, to potential clients and those looking for design inspiration. Open cupboard doors and self-closing drawers, browse samples of materials, worktops, handles, appliances, fittings, wood stains and paints to suit all tastes and requirements.
Opening Hours
Monday - 10am to 6pm
Tuesday - 10am to 6pm
Wednesday - 10am to 6pm
Thursday - 10am to 6pm
Friday - 10am to 6pm
Saturday - By appointment only
Sunday - By appointment only
Out of hours consultations available
by appointment only.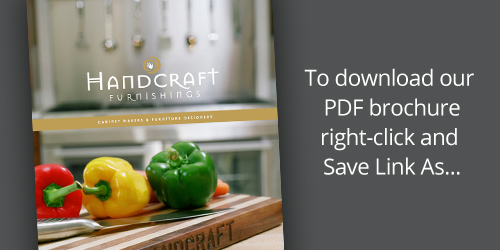 Written quotations are available on request and are based on specified plans provided by Architects and Interior Designers. For quotations on bespoke commissions like handmade kitchens and fine furniture, a design consultation meeting may be required in order to agree dimensions, features and ideas, materials, work surfaces and appliances.
A free design consultation allows you to bring along your ideas, photos, samples, drawings and plans which can be developed into a working design. The meeting usually lasts about an hour and can be scheduled after hours for your convenience.
To get the most out of this time a 'wish list' is a useful preparation. For instance, this may include a list of which appliances you require, the look and style you would like to achieve and how the kitchen is to be used.
Based on the free design consultation appointment, a custom drawing service is available at the next stage using 3D computer technology for you to clearly visualise and personalise your ideal designer kitchen.
At the design stage there is an initial fee to cover the cost of this custom drawing service, which is deductable from the final production cost when the bespoke kitchen or furniture is complete.
Please Note: The copyright of all custom designs is retained by Handcraft Furnishings to be produced in-house unless otherwise agreed.